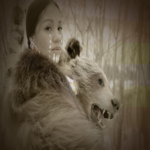 Chuying Jiao interviews Laura Grizzlypaws regarding Indigenous language revitalization.
Laura Grizzlypaws was born and raised in Lillooet, British Columbia in the Interior Plateau region, she is of St'át'imc descent. Her St'át'imc name is "Stálhalamcen – Grizzly Paws," She belongs to the people of Xwisten the Bear Clan. She is a dancer, drummer and a singer/songwriter, an academic, educator and a language and cultural advocate.
Grizzlypaws shares that Language holds a vast array of information from thousands of years of culture and how we relate and connect to the land as well as each other. It is a powerful indicator of a tribal group's identity; it is a critical way to maintain links within one's cultural past and present future identity. Language is rooted and connected in the community and the land, and it needs to be taught more naturally, whereas it is not being trained as a subject. Language is more immersed in the Indigenous culture practice, songs, and dance in hunting and storytelling. All these can be related. The interview also discussed what we can do as students and instructors in the educational institutions and how we can move these barriers forward with our identities. Bringing public awareness in how to become an ally is not just learning Indigenous knowledges and walking away; but becoming an ally means becoming involved, educating, sharing, and publicizing and promoting the important values of the Indigenous languages and culture.
For Accessibility:
Transcriptions to be provided in PDF and Word.