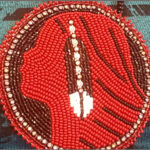 Listen to how these 4 group of Master of Education students came together after taking a course titled, "Privileging Indigenous Oral Traditions and Storywork in International Indigenous Research," with Dr. Mukwa Musayett (Shelly Johnson). Their mantra was simple, "We come as learners to listen." Then we reflect and see how we can give back in meaningful ways.

Dr. Mukwa Musayett is the world's first Saulteaux Canada Research Chair in Indigenizing Higher Education. Dr. Mukwa Musayett is also an Associate Professor at Thompson Rivers University in the Faculty of Education and Social Work.

Frances Macapagal Maddalozzo, Chuying Jiao, Harsimran Kaur Grewal, and Marion Erickson reflect and share how they came to partake in this student-led Indigenous Podcast Series privileging Indigenous oral traditions past, present, and future.
Editor's Note: This is just a draft episode and the final version to be released at a later date. We wanted to release this episode in preparation for the next episode connected with Maria Lucas. We wanted to air Lucas' interview prior to the Papal visit given the content of the interview.

For Accessibility:
PDF and Word transcripts to follow once final episode is complete.